50 Birthday flamingos and Yard Card sign rental -Phoenix AZ
Flocking Arizona since 1994. Over 50 items to choose from.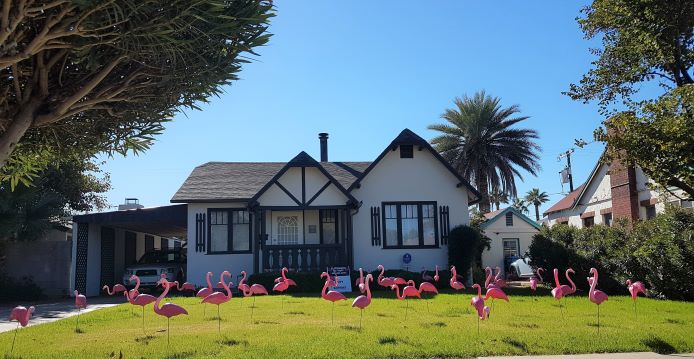 Surprise someone with 50 pink plastic flamingos or another wacky lawn display delivered to their yard in the middle of the night! They've been flocked! The birthday or anniversary gift that leaves them smiling all day. It's hard to look a pink flamingo in the face and not smile back at him, don't you think? Imagine 50 plastic flamingos, all smiling at the same time! It's wonderful! A great celebration to wake up to! A flamingo flocking is a greeting and a party decoration! Think of it as a new millennium version of ecologically correct TP (toilet papering), and we tidy up after.
Check out all our fun lawn greeting options on our
photo gallery
,
YouTube channel
,
Instagram page
and
FaceBook page
. Celebrate a wedding, graduation, new baby, new house, promotion, get well or gotcha. We deliver plastic
birthday flamingos
and
birthday yard signs rentals
every night in the
Phoenix
metro area. Including
Scottsdale
, Arcadia, Paradise Valley, Tempe, Chandler, Gilbert, Mesa, Glendale, Peoria, Cave Creek and beyond. For a
list of metro area cities
. We will go anywhere in Arizona with a little advance notice.
Yard sign displays start at $90. All the same or mix and match.
We have over 50 different yard sign display items available. We have animals, numbers, HAPPY BIRTHDAY letters, hearts, kisses and more. Our lawn displays include a 2'x3' yard sign for your public message and a 5"x7" card for your personal message. We sneak out between 10:30 PM and 6 AM (every night!). Your lawn greeting stays out all day and we return after 6 PM to pick it up. (Late pickups and multiple days available also). All you do is have fun, we will do the rest!
We prefer as much notice as possible. You can order online or give us a call. For same day and last minute orders
click here to call
us. Prices begin at $90 for most of our displays, plus travel fee based on distance. Get
an estimate
, then go
flocking
wild!
Over 50 yard sign items to choose from
40 - Bats 3D
30 - Butterflies
30 - Dinosaurs 3D
30 - Fish
50 - Flamingos 3D
30 - Frogs
40 - Gray hares
30 - Penguins 3D
30 - Pigs 3D
40 - Rabbits
30 - Storks 3D
50 - Turtles
30 - Bells
30 - Candy canes
30 - Flags
30 - Graduation caps
HAPPY BIRTHDAY letters + 17 more items
30 - Hearts
30 - Kisses/Lips
30 - Numbers
30 - Shamrocks
30 - Smiley faces
30 - Stars
30 - Tombstones
30 - Yellow ribbons
30 - Baseballs
30 - Basketballs
30 - Footballs
30 - Golf balls
30 - Soccer balls
30 - Softballs
30 - Tennis balls
30 - Volley balls
We deliver fun birthday yard sign greetings everywhere in Arizona
Yes, we deliver every night, even during Covid!
Plastic flamingos are very social animals. In fact, you could say they're real "party animals". They love to be on location, on display and interacting with their hosts, hostesses and guests. But during covid... well things changed. You probably wouldn't believe this if we didn't have it on video. Check the flamingos doing social distancing

(video courtesy of a customer)
Plastic flamingo flocks social distance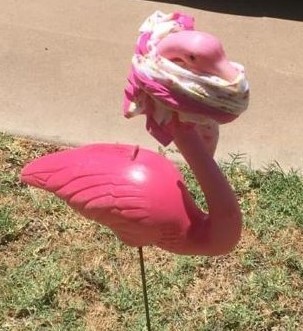 (480) 483-3200
Office hours
Mon. - Thurs. 9:00 AM-6 PM
Fri 9:00 AM - 5 PM
Sat. & Sun. Leave message for last minute service

We check our messages after hours & take last minute orders. Call us!