What customers are saying about Flamingos By Night
It was completely awesome! Thank you so much!

--Nadia C.--
Ha! Oh my gosh this was so fun. Woke up to find out we had been flocked!! 50 flamingos and 2 adopted ones and a baby stuffed flamingo for the new baby. This was awesome and I can't wait to do this to someone.

--Georgette H--
It was great..my sister loved it, coming out her front door and seeing the flamingos and 75 numbers..we all loved it. Thank you
I want to tell you how much I enjoy using your company. Everything was perfect. The person taking my order thought of everything. Things I hadn't thought of to make sure the flamingos were a surprise. The recipients were surprised and loved having the flamingos in their front yard.

Thank you again. I will use your services again. I only wish you did out of state because I have so may people I would love to flock!!

--Leayne B.--
Amazing, as always.
Absolutely beautiful. My daughter was surprised. We all loved it.

--Angelique A.--
Love this company

--Matt S.--
Very pleased and would buy again. It was on quite short notice, I didn't call to confirm, yet stealth delivery was on point - for genuine shock flock next morning. Well done!

--Heather B.--
I love this service and use it often
Customers love Flamingos By Night
What a great idea! What an amazing surprise! Awaking to think I would be spending my birthday alone, then opening the door to find my yard and shrub filled with 50 flamingoes and a sign with birthday greetings was fantastic. My daughters gifted this experience. I would like to pass this experience on to loved ones in the future.

-- Nita B. --
My mother-n-law loved her yard display for her 95th birthday. Love this service.

--Susan B.--
This was awesome as usual Love the company.
Super fun surprise when I woke up the morning of my 40th birthday to all these "hogs" and "kisses!" So great!!

-- Ally G. --
Waking up and finding flamingos in front of my house had me smiling all day!

-- Carolyn B. --
It is perfect!!! Thank you sooooo much!❤️😀

--Kim T. --
She loved it!
I saw on my cameras someone was parked in front of my house around 11:00 pm. Looking out the window I saw a tinted out truck and a guy with a baseball cap pulled low carrying a cardboard box. He walked pretty close to one of our cars and thought he might be doing something. When I walked outside he drove off and I totally thought it was suspicious. We live in a small cul-de-sac and are familiar with the cars between my neighbors and my house. I was debating calling the cops or just letting it go before looking at my neighbors house and BAMM!! A bunch of freaking flamingos and a sign saying happy birthday to my neighbor. It was amazing haha!
-- Jamie W. --
What an awesome birthday surprise for my brother! A whole flock of flamingos, a personalized birthday sign, and a stuffed flamingo for a keepsake. No one expects the flamingo inquisition! That's why it's a perfect gift. :)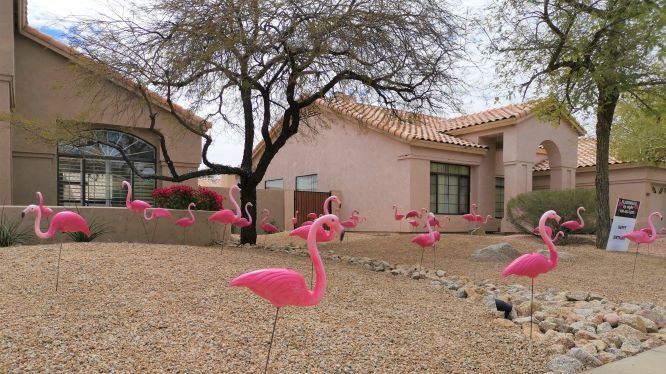 Allan L.--
Surprised our friend for her birthday. Everyone had a great time. I would highly recommend Flamingos by Night, we had an awesome experience!!
A great experience. The company emailed when they saw that i might have made an error in my order. it was very much appreciated. The person who it was gifted to cried when he drove up and saw it. It doesn't get better than that!

-- Judy N. --
Thank you so much! It really helped make for a special occasion!
Ha! Oh my gosh this was so fun. Woke up to find out we had been flocked!! 50 flamingos and 2 adopted ones and a baby stuffed flamingo for the new baby. This was awesome and I can't wait to do this to someone.

-- Holly B. --
My order was just as I expected, Very surprised recipient and very happy with the service! Thanks!
What a great way to celebrate with someone and maintain all the new requirements of social distancing. You have a perfect way to honor someone....for any reason really. Susann was great to work with, made some good suggestions/options, wasn't pushy but understanding, professional and most importantly, delivered perfectly! Highly recommend.
--Kelsey W. --
Very simple and friendly ordering process. Set one up for the night before my stepdad's birthday. He woke up to an awesome "flocking!" Definitely a great way to make someone's day! Very fun and a great reliable company. Thank you FBN!

-- Kevin P. --
Absolutely recommend. I already have.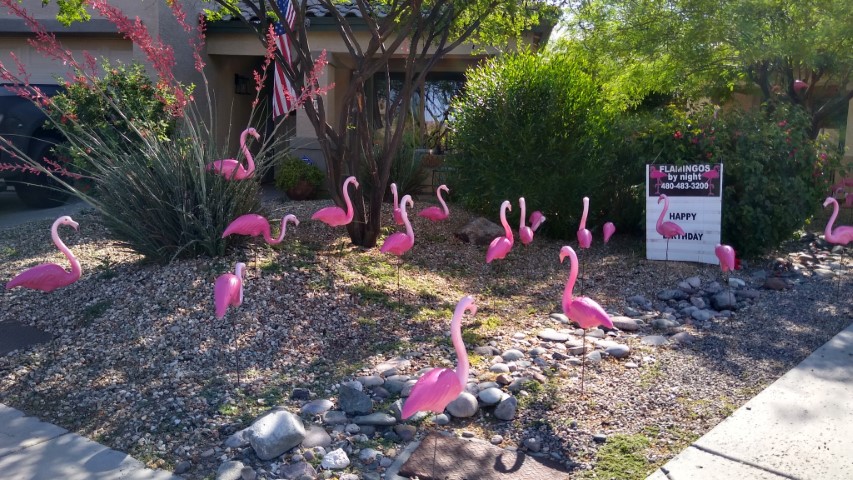 -- Andrea Z. --
Absolutely recommend. My experience was easy and seamless! Love the concept. Thank you!

-- T.C. C. --
My coworkers surprised me with Flamingos By Night last night for my 50th birthday, and I even got an "I've been flocked" t-shirt. What a unique and fun prank!
Thank you, Flamingos By Night for making my parents' 60th Anniversary so very special! I have used you in the past and always with wonderful results. My parents absolutely loved it!

The people who delivered did such an awesome job. The yard looked amazing! My mom commented several times how much she loved the flamingos.

I wanted my parents to enjoy their little friends for just a while longer, so I called to see if I could extend one more day. The customer service was absolutely wonderful! A busy holiday so she had to do some rearranging, but got it done. She could have very easily said, sorry we're not able to do that at this time, but she made it work that the flamingos could stay one more day. Thank you so much!! My parents then received another surprise when they woke up to find the birds still there. Yay!

Thank you again, Flamingos By Night. You went above and beyond to make a very special occasion pretty amazing!
Recently had a last minute brainstorm to decorate my dad's yard to celebrate his 80th birthday. I literally called them late Thursday afternoon, after my daughter came across their website, to see if they had availability that night. His birthday was the next day. Left a message. She got right back to me.

We ended up with a hilarious birthday message readable from the street, several large "#80"s and (25) 2' white golf balls. Not only did the yard look great but my parent's dog *never* woke up. He sleeps with them and their room is near the front of the house.

My dad was just tickled! Their neighbors thought it was fantastic. And the best part, they came Friday night around 7:30 ish and cleaned it all up. Would definitely recommend Flamingos by Night!


-- Nannette W. --
My 18-year-old granddaughter was so surprised! She loved everything--especially the giggles and birthday wishes from the neighbors.
OMG! Let the hilarity ensue! I was surprised and delighted to wake up this morning to dinosaurs in my front yard ringing in the big 5-0 birthday. A wonderful friend planned this surprise. It was awesome. I couldn't stop giggling. And I found the "adoptive parent" letter that accompanied my plastic flock so witty and creative.

If you want to make someone's day, I highly recommend this company. So cute. So fun. And I really loved waking up to such a thoughtful surprise.


-- D O. --
Our family has taken to using Flamingos by Night to surprise "flock" one another on any occasion that seems worthy - 50th birthdays, hospital releases, race challenges. They've never failed to bring a smile to the faces of those who've been flocked. They greeted me as I left the house yesterday morning to take part in a personal challenge.
-- Jen M. --

What an amazing experience, from our first email to the final pick up. The staff was awesome and helped to customize my sisters 40th surprise flocking. They were in and out for set up in a matter of minutes.

The flock care directions were a great added touch and even the recapture crew was so kind. We will be sure to use them again and everyone that came to the party LOVED the yard.

Much more than we bargained for and the prices were easy on the pocketbook.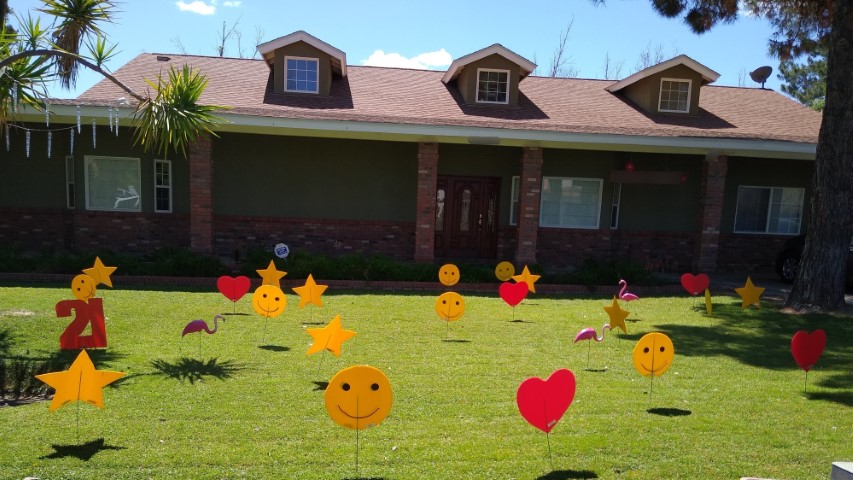 -- Adam B. --

I've wanted to flock a friend of mine, but missed the mark on his birthday three years in a row. This year I finally got the ball rolling in time, and I'm so happy I did! Flamingos By Night was perfect! They did such a great job, and the display turned out great.

My friend woke up to quite a surprise and it quickly became the hit of the show! I think it really made his birthday great! I got a surprise as well when I found out they also have T-shirts and stuffed Flamingos! Definitely!

Their order process was a breeze. They were super friendly, and delivered exactly as promised! I couldn't be happier!

Thank you Flamingos By Night!
What a great way to celebrate with someone and maintain all the new requirements of social distancing. Toss in a barrage of birthday cards via snail mail and you have a perfect way to honor someone....for any reason really. Susann was great to work with, made some good suggestions/ options, wasn't pushy but understanding, professional and most importantly, delivered perfectly! Highly recommend.
Order-by-Date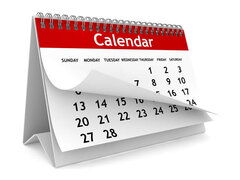 Choose a yard sign display