Flamingo flocks social distance during Covid 19


Plastic yard flamingos are normally very social animals. In fact, you could say they're real "party animals". They love to be on location, on display and interacting with their hosts, hostesses and guests. The flock is always up for a good time and often has crazy flocking experiences during their visits. We have found them in trees, bushes, under cars and a variety of other places when the migrators returned to pick up the flock.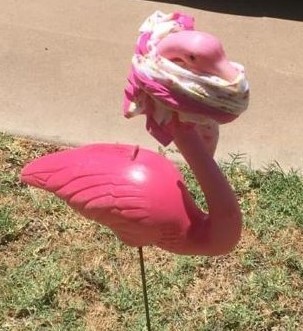 Each plastic flamingo is its own individual bird, but they do enjoy flocking together. Although they prefer to be with their flock, the birds always appreciate personal space. They will normally be about four to five feet apart unless constrained by a small yard.

So all this covid 19 stuff has them feeling stifled. In spite of that, the birds are doing their part during the pandemic. Socially distancing within the flock during their outings. We told you they are well-behaved.
These plastic flamingos are always well-behaved and polite. But as you can guess, as real party animals, they are always up for a good time. So when one creative flockee suggested they put masks on so they could all go to Costco... Here's what happened.

Hmm... We've never known our plastic flamingos to be interested in shopping before. But with the right inspiration....

And no, we don't know what they bought.
We are more than just flamingos. We have penguins, too, and they come dressed for the party. There are over fifty items to create a custom display for this or any other occasion. We have examples on our
photo gallery page
,
FaceBook page
,
Instagram
pages and our
YouTube Channel
.