Mother's Day yard card signs - May 14, 2023
Mother's Day is coming soon. What will you do this year to impress your Mom? Or your Wife, Grandma, Sweetheart or Bestie? Wow them on Mother's Day by decorating their yard with 30 big red hearts or big red kisses. What could be better on Mother's Day than big red hearts in the yard?

If you can't decide, go full blast and send both hearts and kisses! Or to be unique, make a custom display.

All displays include a Happy Mother's Day sign, and you can customize the message for five dollars more. A 5x7 card with space for a personal message is also included with each display and will be placed by the front door.

See below for fun ideas for Mom's Day.
We deliver everywhere in Arizona
Celebrate Mom with a great Mother's Day yard card
A yard full of hearts or lips or a combination may be the classic, but creative ideas abound.

You can pair gray bunnies with the big red hearts and a custom sign for "Some bunny loves you" or "We bunnies love you".

A yard full of hearts and stars with a card message of "Ask me how much I love you, just count the stars" and a custom sign "You are the star in our sky" or "Love to our star".

Another classic Mother's Day yard display is pigs and lips in the yard and a sign "Hogs & Kisses". Our pigs are really cute . Or "Babe, how I love you!"


Put hearts with dinosaurs "For a Dino-mite Mom".

Bats and hearts for "With love from your Batman". Put them with kisses for "Kisses from your batty kids".

Combine flames with big red hearts in the yard and a sign that says "you set my heart on fire". Or you can combine our flames with our lips with a sign for "hot lips I love you". Or all flames "To one hot Mama".

Mix hearts and frogs for "Hoppy Mother's Day".

Have a glass of wine and come up with your own fun idea.
The whole neighborhood will remember this Mother's Day If you want to create a big splash, send in our birds. We are more than just flamingos. We have penguins, too, and they come dressed for the party. There are over fifty items to create a custom display for this or any other occasion. We have examples on our
gallery page
,
FaceBook page
,
Instagram
and our
YouTube Channel
.
The present Mother's Day all began with Anna Jarvis, who started a campaign for an official holiday honoring mothers in 1905, the year her own mother died. The first larger-scale celebration of the holiday was in 1908, when Jarvis held a public memorial for her mother in her hometown of Grafton, West Virginia.

Over the next few years, Jarvis pushed to have the holiday officially recognized. Finally, in 1914, President Woodrow Wilson signed a proclamation making Mother's Day an official holiday, to take place the second Sunday of May.

Even after Anna Jarvis was successful in getting Mother's Day made an official national holiday, she was unhappy with the commercialism of the holiday. She later lobbied to have the holiday removed from the calendar of national holidays, and spent piles of her own money in lawsuits against profiteers she saw as using the Mother's Day name in vain.

There' was a whole lot of controversy around Mother's Day. There were debates about who came up with the holiday first and lawsuits about who can use the name "Mother's Day", even about the placement of the apostrophe.

One thing not in contention is the sincere desire to celebrate our mothers love. And we do it on the second Sunday in May of every year.
To place your order online, just click below. Or you can give us a call at 480-483-3200
Order-by-Date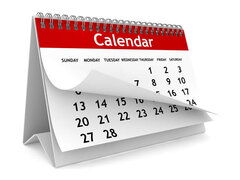 Choose a yard sign display